Vickys Monkey Bread, GF DF EF SF NF.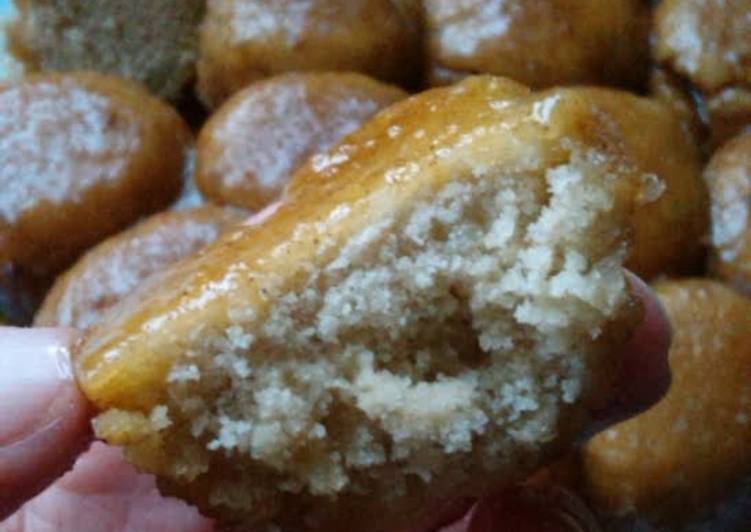 You can have Vickys Monkey Bread, GF DF EF SF NF using 16 ingredients and 15 steps. Here is how you achieve that.
Ingredients of Vickys Monkey Bread, GF DF EF SF NF
It's of potato starch (1 & 1/4 cups).
Prepare of rice flour (1 & 1/4 cups).
It's of granulated sugar.
Prepare of salt.
You need of xanthan gum.
It's of applesauce.
You need of coconut oil, melted.
You need of coconut milk, warmed to 100F.
You need of fast acting yeast.
Prepare of Topping (reduce by 3/4 if not making the extra caramel topping).
Prepare of granulated sugar.
Prepare of ground cinnamon.
Prepare of spray oil as required.
You need of Caramel Sauce (optional).
It's of remaining sugar/cinnamon from topping (around 200g/1 cup).
It's of just over 3/4 of above weight of sunflower/olive spread or butter (170g / 3/4 cup).
Vickys Monkey Bread, GF DF EF SF NF step by step
Preheat the oven to gas 5 / 190C/ 375°F.
Grease an 8"or 9" round tin with spray oil.
Mix the flour, starch, salt, sugar and xanthan gum in a bowl.
Add the applesauce and coconut oil, warmed milk and yeast. Mix together to form a soft dough.
It should be more batter-like, a very soft dough, not sticky but not dense at all. If you made a ball of it and dropped it on counter top it would flatten a little. Don't be tempted to add more flour thinking that the dough is too soft.
Mix the sugar and cinnamon from the topping ingredients together and sprinkle 2 tablespoons of it into the greased tin.
Make balls out of the dough about 2 inches in diameter or enough dough to fit in the palm of your hand.
Spray the donuts with the oil and sprinkle liberally with the cinnamon sugar.
Place them in a single layer in the tin.
At this point you can bake as they are for 18 - 20 minutes then let cool for in the tin for 5 minutes. Lovely donuts!.
Invert onto a serving plate and enjoy. Any leftovers can be frozen for up to 3 months. Just defrost then warm through in the oven at the same temp for 4 minutes to refresh them.
If you want the caramel sauce topping to make the doughnuts into monkey bread, melt the leftover cinnamon sugar with just over 3/4 it's weight of butter in a pan until the sugar has dissolved.
Pour over the coated donuts and bake for 25 - 30 minutes.
Let cool in the tin for 10 minutes to let the caramel sauce thicken then invert onto a serving plate.
It's probably better to make the balls half the size if doing this, around an inch wide, just because of the sweetness.